Jo
has been seeing Maria for massage for several years. She was diagnosed with Cushing's disease exactly 5 years ago and was given 2 years to live. Since her Cushing's diagnosis, over the past few years she was also diagnosed with Heart disease, Hypothyroidism, a Herniated Disc and Spinal Arthritis. Jo still has a great quality of life thanks in large part to the care that she receives from Maria. Jo loves to get massages, they keep her feeling good and give her back range of motion. The Cushing's causes severe muscle loss so thank God for Maria's massages because she helps what little muscle Jo has to feel good, healthy and able to sustain her so that she can still get around just fine on her own. Jo still enjoys trotting around the yard (even on the coldest day) and playing with her sister, Reba. Jo's muscles get really tight and sore and Maria works out all of the tightness and makes Jo feel good. Jo is not a snugly dog. She barely likes to be petted. Yet, Jo melts in Maria's lap the second she sees her. She cannot wait for her rub downs! I really believe that Maria has extended Jo's life because she is giving Jo the quality of life we want for her so that she can keep going!
---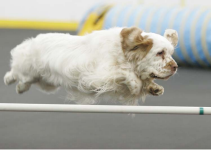 Slammer was a very motivated, athletic Clumber who had achieved her OA/OAJ and was competing in Excellent when she had her puppies in 2004. After her puppies were born, she seemed to be back to her old self, but she suddenly began going around jumps, skipping weave poles or dropping bars. Those of us who knew her thought she might be sick. I immediately took her to the vet and had her thoroughly checked out. They found nothing wrong. When I was finally able to connect with Maria, it was obvious to me from her reaction that Slammer was VERY sore. That day, after having skipped the weave poles and contact obstacles in the morning, she was within the last two weave poles and a jump of q'ing in Jumpers, with only that very first massage. Since that time we have seen Maria on at least an every-other-week basis. She earned her AX/AXJ and then MX/MXJ and is still running at nearly 11 years of age, earning her Preferred titles in 2008 and seven MJP legs. I am convinced she would not be running if it were not for the superb care from Maria!
---
Maria Duthie has been administering weekly massage treatments to Summer, our twelve year old golden retriever this past year. It was during this time that Summer was diagnosed by a veterinarian with an irreversible degeneration of her spinal chord. The effects of this illness include the loss of control, strength and muscle mass in her hind legs.
Mariaís massage treatments have been critical in our efforts to manage Summerís disease and provide her comfort in her latter years. These massages reduce Summerís spasms, and increase her flexibility and energy level. Maria has also alerted us to other possible health concerns or medication changes to discuss with our veterinarian.
After each session, Maria suggests a plan of treatment to include exercises and/or activities that we can do with Summer. It is this advice that we sometimes find to be the most valuable; because, as our golden struggles with her serious illness, we arenít left with a feeling of helplessness.
With Mariaís guidance and assistance, Summer continues to be our faithful companion and she is able to carry on with her therapy dog visits.
Jane Norton
Marty Robinson
Lazy Days of Summer
(Back to top)

---
Scooter and Abby have been seeing Maria monthly for quite a while.Both are Yorkshire terriers. Scooter had a tumor removed from her intestines in December 2005 when she was 11 Ĺ years old.
As a result she had multiple health issues over the next 3 years. She loved her massages and they obviously made her feel better. The look of peace and gratitude in Scooterís eyes as Maria massaged her little body spoke volumes. Maria came to our house in December 2008 so Scooter would not miss her massage. Little did we know that it would be Scooterís last. She became very sick early in January and lost the battle on February 24. Abby, who will be 18 in July 2009, is a real miracle story. Rescued from a back yard breeder at the age of 5 she had leg-perthes disease in both hips. One leg was frozen up under her belly and required surgery. Shortly after the surgery she developed other health issues and by age 10 she was totally blind and is also now deaf. The other hip is now full of arthritis but Abby is not a candidate for surgery. Pain pills were not controlling the pain, plus the medication gave her a bleeding ulcer. Since Maria has been massaging her she has been much less painful, and has not had any limping for many months. She is now able to take a milder pain medication that is easier on the stomach. Some people laugh when we say we are taking the dogs for their massages. But if they could see the contentment in their eyes as Maria works out the aches and pains they too would be believers. Thank you Maria for helping take such good care of our little ones.
Susie Thomas
(Back to top)