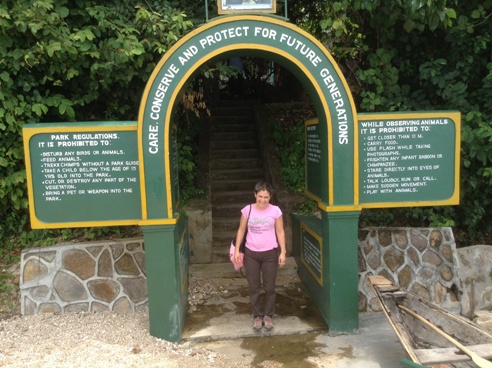 My trip to Tanzania was designed to be a very special one. I had dreamed of seeing the chimpanzees since my trip to Rwanda where I saw the mountain gorillas. I find them fascinating on many levels. My time spent as a zookeeper gave me the chance to study primate behavior which has fascinated me from then on. My current role as a animal massage therapist drives me to evaluate muscle tone and structure on as many animals as possible.

The Gombe forest stream is the most beautiful place I seen the lake is crystal clear you can see all the way to the bottom the water is pure and beautiful. It is representative of the wildlife that thrives on its shores.

Our first day we took a two-hour boat ride to the preserve. Following an hour and a half of climbing we found our first set of chimpanzees. I was most impressed by the dominate male of this group,Ferdinand. His coat shine like black velvet bake and pure. His muscle structure perfect. He was much larger then I eected and moved with power and grace. I watched him be groomed by his brother. Their interactions were amazing very interesting and very pleasant experience. Ferdinand quickly became one of my favorites.

The next two days we also saw the chimpanzees. Ferdinand was a strong player in each days visit. He became interested in his sister in a way that she was not interested in him. A female chimpanzee will not breed with her brother or her father. This did not make Ferdinand very happy. On the second day Fanny and her baby Fifty climbed silently down a tree beside me. Ferdinand ran in front of me and went after her. They tussled in front of me for a few minutes. This gave me a great view of their muscles in action not to mention some fabulous behavioral interaction.

Day three belongs to Fanny. We had a short hike this day because the chimps were near the beach. Our first View was of a nervous male who stood cautiously watching us. My guide, Kapharr, keep us moving past him because our presence made him nervous. The consideration for their welfare was refreshing then they appeared. Fanny and her two young ones along with a sub adult male made their way passed us and stopped about eight feet away. Their interactions were buetifull. So loving as Fifty nursed and they groomed one another. It brings tears to your eyes to witness such a display of peace and contentment.

I am so lucky to have gotten the chance to visit this peace of heaven on earth. My hope is to return and bring others so that they can see the bueaty of life in Africa. The lessons I learned from these magnificent animals will help me in my work here at home.